10 Gumpaste pine cones for cake decorating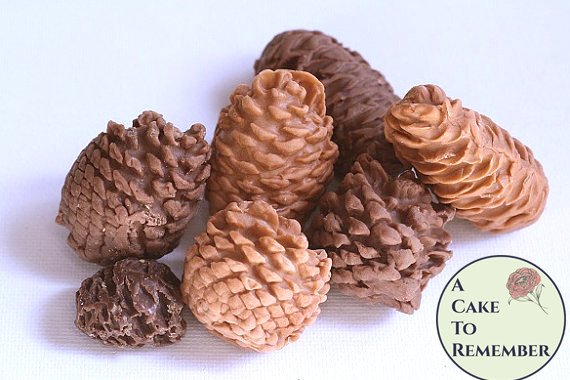 10 Gumpaste pine cones for cake decorating
These little pine cones add a cute touch to any fall-themed cake. I've used them in combination with autumn leaves to add a rustic element to a basic leaf-themed design, or they can stand alone with some powdered sugar "snow."
They're made of gumpaste so they'll keep their shape. The sizes are designed to fit well on a tiered cake, and range from 1" to a little over 2" long. The color will be a medium brown. (Gumpaste is technically edible, but it doesn't taste like much, and is very hard. It's not a candy, so you wouldn't eat them like candy!)
This listing is for one group of ten. This will probably include two of the smallest ones, two of the largest, and six of the middle-sized ones, but sizes may vary. Shapes and colors will vary from order to order because they're all made by hand. If you need more then ten either order multiple lisitngs, or let me know and I'll do a custom listing for you.
Please allow at least two weeks for the cones to get to you if you're in the U.S., longer internationally. I need to make sure they're dry enough to ship before I pack them, and that can take a few days.