12 Assorted shapes Isomalt jewels with framed settings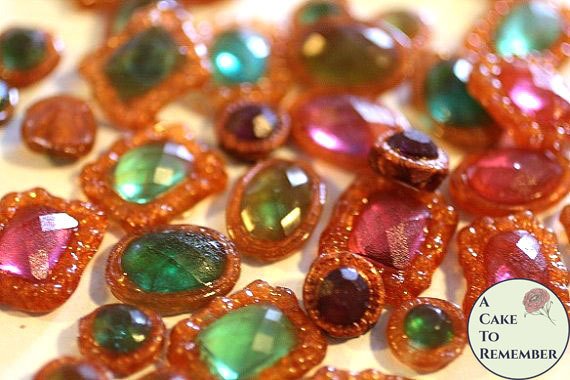 12 Assorted shapes Isomalt jewels with framed settings
Isomalt jewels with metallic tone isomalt settings for cake decorating. The rectangular gems framed with a dark gold setting in the photos are about 3/4" long and 1/2" wide for size reference.
DUE TO CUSTOMS ISSUES THIS ITEM DOES NOT SHIP OUTSIDE THE U.S. ORDERS PLACED TO SHIP TO COUNTRIES OUTSIDE THE U.S. WILL BE REFUNDED. PLEASE CONTACT ME WITH QUESTIONS.
The metallic color is in the poured isomalt so it's an imbedded tone and won't rub off. The color can range from medium to a darker color and can vary between jewels.
Each listing includes 12 jewels in various shapes and sizes. These edible jewels will be a beautiful addition to a wedding cake or a treasure chest birthday cake.
The color for the jewels can be selected at checkout. If you don't specify a color I'll send an assortment.
The colors work best if they're on the lighter side. If they're too dark they tend to look black and you lose the color, so I'll keep them in lighter tones unless you specifically want darker ones.
**These are edible but aren't intended to be eaten by the handful like candy...Isomalt is a sugar substitute and too much of it can cause "digestive upsets." These are sized like small hard candies, so they are a choking hazard for small children!**
These should be placed on the cake right before delivery or serving. They can be affected by humidity and shouldn't be refrigerated. To store, keep the gems in an airtight container at room temperature with the silica gel that will be sent with them.