12 Fondant cameos for cake decorating or cupcake decorating, edible cameo, cake cameo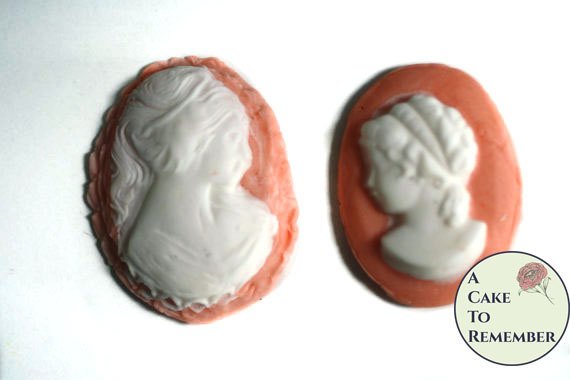 12 Fondant cameos for cake decorating or cupcake decorating, edible cameo, cake cameo
12 fondant cameos for cake decorating or cupcake decorating. 6 each of two different designs in either all white that you can color yourself or in white with a contrasting background (extra charge applies for two colors).
DUE TO CUSTOMS ISSUES THIS ITEM DOES NOT SHIP OUTSIDE THE U.S. ORDERS PLACED TO SHIP TO COUNTRIES OUTSIDE THE U.S. WILL BE REFUNDED. PLEASE CONTACT ME WITH QUESTIONS.
These would be cute on a vintage themed cake, or for a tea party birthday. The cameos are about 1 1/4"- 1 1/2" wide and 1 1/2"- 1 3/4" tall. Each has the profile of a woman on them, the larger is facing right and the smaller one is facing left.
You'll get six of each design in the color that you specify at checkout. The cameos in the photos are made from fondant and show the contrasting color option. Let me know what color you want at checkout if you don't want them to be solid white.