12 Mermaids wafer paper cookie images, vintage mermaid party edible wafer paper prints for cookie decorating. Printed wafer paper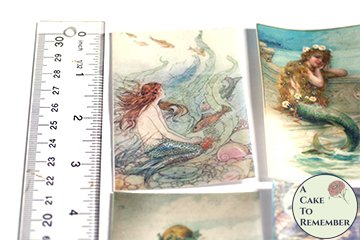 12 Mermaids wafer paper cookie images, vintage mermaid party edible wafer paper prints for cookie decorating. Printed wafer paper
12 vintage mermaid wafer paper images for decorating cookies. You'll get nine different images plus three duplicates for a total of 12.

These are about 2 1/4" x 3 1/4" but the sizes vary slightly. They come cut out and ready to use, but you can trim them with a pair of scissors if you need them to be a little smaller.

They're sized to use on about 3X4" rectangular cookie, which you can make using a cutter or by cutting out cookie dough using a pizza cutter and a ruler.

Edible wafer paper images can be placed on iced or fondant-covered cookies and stuck on with corn syrup or piping gel.

Watch this video to see how to attach them to cookies, it's easy! https://www.youtube.com/watch?v=X2CHw65wPPc

These needs to be used on iced cookies, they won't stick well on cookies that have soft icing or none at all. They can be placed on cupcakes right before serving them, using a little icing or corn syrup.

Wafer paper is made from potato starch and vegetable oil and is tasteless and odorless. When you eat it along with the cookie it doesn't affect the flavor at all.

They should be stored at room temperature in the plastic bag they're shipped in until you use them. They'll be good for up to a year if stored in the bag out of humidity and light, which can fade the food coloring.