12 small gumpaste succulents for cake decorating or cupcake decorating, or DIY wedding cakes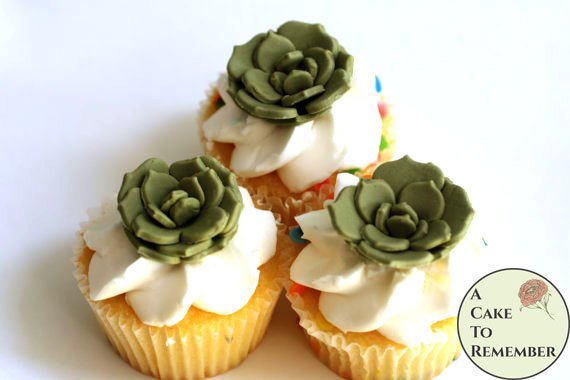 12 small gumpaste succulents for cake decorating or cupcake decorating, or DIY wedding cakes
12 small rounded gumpaste succulent plants for cake decorating and cupcake decorating.
Edible succulents are a really cute addition to wedding cakes and cupcakes.
DUE TO CUSTOMS ISSUES THIS ITEM DOES NOT SHIP OUTSIDE THE U.S. ORDERS PLACED TO SHIP TO COUNTRIES OUTSIDE THE U.S. WILL BE REFUNDED. PLEASE CONTACT ME WITH QUESTIONS.
These are made from gumpaste, which is an edible sugar clay that dries to a hard finish. These are hard like the little candy hearts with words on them, and are really meant for decoration, not for eating!
These are about 1 1/4" across.
Please read my shipping policies about gumpaste...These are pretty sturdy but they do run the risk of softening up if they sit in a humid customs warehouse for any length of time, so I ship them only to the US. If you're from a different country and are willing to take the risk, send me a question about it! To see my main shop page click here: http://www.acaketoremember.com