24 gender reveal party wafer paper circles for chocolate covered cookies. Gender reveal ideas, gender reveal decorations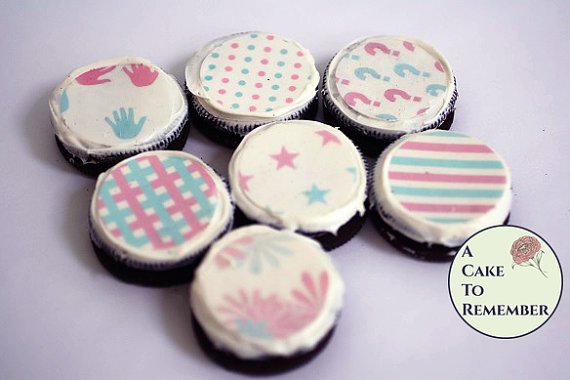 24 gender reveal party wafer paper circles for chocolate covered cookies. Gender reveal ideas, gender reveal decorations
24 pink and blue patterned gender reveal party wafer paper circles sized to put on chocolate-covered chocolate sandwich cookies. These measure 1 1/2" across and come already cut out and ready to use. They include seven patterns with coordinating pink and blue colors.

Edible wafer paper images can be placed on iced or fondant-covered cookies and stuck on with corn syrup or piping gel.

The ones in the photo have been dipped in chocolate and the wafer paper was placed on the soft chocolate before it set up. It's really easy to decorate cookies this way.


Wafer paper is made from potato starch and vegetable oil and is tasteless and odorless. When you eat it along with the cookie it doesn't affect the flavor at all.