24 watercolor edible wafer paper butterflies for cake decorating, cupcake decorating and cookie decorating. Wedding cake edible butterflies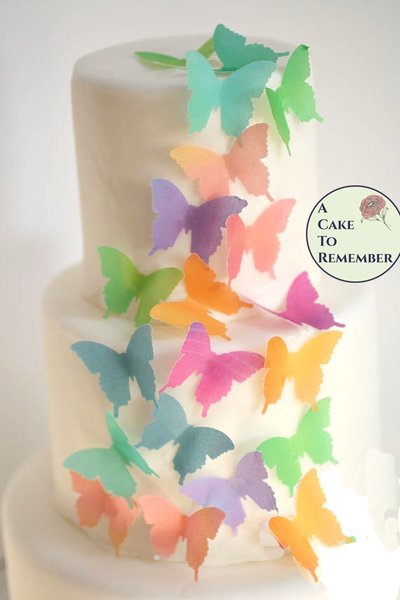 24 watercolor edible wafer paper butterflies for cake decorating, cupcake decorating and cookie decorating. Wedding cake edible butterflies
24 watercolor wafer paper butterflies for cake decorating, cupcake decorating and cookie decorating. These
measure about 1 1/2" across and are punched out from colored wafer paper sheets. The color is printed on one side of the paper.
Edible butterflies can be placed on iced or fondant-covered cookies and stuck to cakes with corn syrup or piping gel. These make a nice decoration on wedding or birthday cakes.
Handle with dry hands since wafer paper will melt if it gets wet!
They attach to fondant-covered cakes with corn syrup or piping gel They can be used on buttercream if you attach them to the cake with a little buttercream or corn syrup right before serving. These needs to be used on iced cookies, they won't stick well on cookies that have soft icing or none at all. They can be placed on cupcakes right before serving them, using a little icing or corn syrup.
Watch this video that shows how to apply the images to cookies if you're not sure how it works...it's easy! https://www.youtube.com/watch?v=h0qGoy3S1Rw
Wafer paper is made from potato starch and vegetable oil and is tasteless and odorless. When you eat it along with the cookie it doesn't affect the flavor at all. They should be stored at room temperature in the plastic bag they're shipped in until you use them.
They'll be good for up to a year if stored in the bag out of humidity and light, which can fade the food coloring.