12 Autumn gumpaste leaves for cake decorating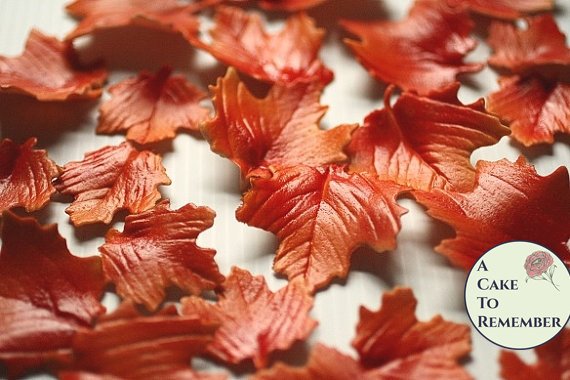 12 Autumn gumpaste leaves for cake decorating
12 Gumpaste autumn maple leaves for cake decorating or cupcakes. These are pretty on fall-themed cakes or rustic style cakes.
DUE TO CUSTOMS ISSUES THIS ITEM DOES NOT SHIP OUTSIDE THE U.S. ORDERS PLACED TO SHIP TO COUNTRIES OUTSIDE THE U.S. WILL BE REFUNDED. PLEASE CONTACT ME WITH QUESTIONS.
Each order is twelve maple leaves in two sizes, 6 of each size, the smaller ones are about 1 1/2" wide and the larger ones are about 2" wide.
They're made by hand, so each one is slightly different. They're airbrushed with color and each leaf has a variety of fall tones on it.
You can choose the primary color at checkout, and I'll color them in tones of that color. For example, if you choose yellow, I'll make them mostly yellow with some orange in them to make them look more realistic. If you want a specific color combination please contact me directly.
Please allow at least a week for these to be ready to ship, since they need to dry before shipping.
Each order is for 12 leaves.