Beaded swag medallion silicone mold for cake decorating, polymer clay. Cake supplies, silicone mould.beaded lace mold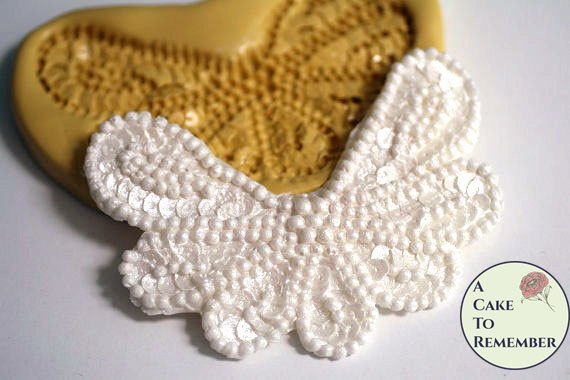 Beaded swag medallion silicone mold for cake decorating, polymer clay. Cake supplies, silicone mould.beaded lace mold
Beaded swag medallion silicone mold for cake decorating or polymer clay. Cake supplies for fondant or gumpaste. Silicone mould.
This mold makes a swag that's about 3 1/2" across and 2 1/2" deep. It has pearl borders and details on it and sequin details on the inside of the borders.
This is a food-safe silicone that's heat resistant up to about 350 degrees Fahrenheit, so you can use it for melted chocolate and isomalt as well. For fondant and gumpaste a stiffer material will work best because soft fondant can stretch when being removed from the mold and you can lose some of the detail.
The swag in the photos was made from gumpaste and brushed with a pearl luster dust to bring out the details.