Gumpaste Lilac Cluster for Cake Decorating, gumpaste filler flowers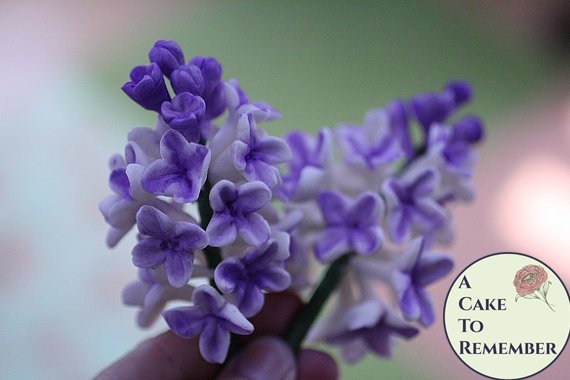 Gumpaste Lilac Cluster for Cake Decorating, gumpaste filler flowers
Gumpaste lilacs for cake decorating. These are wired into clusters of 25-27 blossoms and buds, and can be separated to use as individual filler flowers.
These lilac blooms are made by hand and wired individually.
DUE TO CUSTOMS ISSUES THIS ITEM DOES NOT SHIP OUTSIDE THE U.S. ORDERS PLACED TO SHIP TO COUNTRIES OUTSIDE THE U.S. WILL BE REFUNDED. PLEASE CONTACT ME WITH QUESTIONS.
Use them individually or in groups to create a beautiful flower arrangement on any special cake.
THIS PRICE IS FOR ONE CLUSTER.
I can make them in any color, just message me and I can arrange for a custom order for you. If you don't specify a color I will send white ones.
I will also do them in quantities, so if you need more than one let me know. I can recalculate shipping based on how many you order and will do a private listing for you.
The clusters measure about 3" to 3 1/2" long from tip of the bud to the base of the flowers. Each one contains about 4-5 buds, about 5 smaller blossoms, and about 15 larger blossoms. The blossoms average 1/4" to 1" wide, but each one is individually made and the sizes will vary as a result.
Gumpaste is a sugar clay that dries hard and is technically edible. These blooms contain wire, so should not be eaten!! You can keep them as a keepsake, and they'll last for years if kept away from heat and humidity.
The photo with the peonies shows how they look in an arrangement.
Please see my policies page for ordering and shipping information. You'll need to allow at least three weeks for these to be shipped, since they take time to make and dry.
To see my main shop page click here: http://www.acaketoremember.biz