12 "Mr. and Mrs." Wedding cupcake toppers, edible toppers for cake decorating, Edible cupcake topper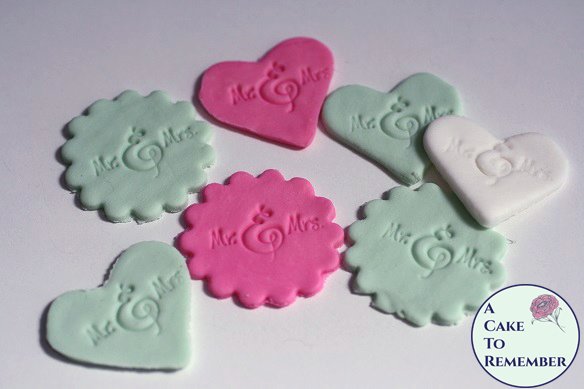 12 "Mr. and Mrs." Wedding cupcake toppers, edible toppers for cake decorating, Edible cupcake topper
These are 12 fondant cupcake toppers with monograms (or without). The phrase "Mr. and Mrs." is imprinted on each one.

You can choose the shape you prefer, either hearts or scalloped circles, at checkout. You can also choose 6 of each.

Choose a color at checkout. I can't match exact colors, because colors can vary depending on how they're showing on computer monitors. I'll do a basic version of whichever color you choose (light green vs. sagey blue grass green, etc.) :)

They're about 1 1/2" wide at the top of the hearts, and 1 1/2" across on the round ones. These are sized perfectly to insert into the icing on top of a cupcake for a wedding, a bridal shower or an anniversary party.

If you need fewer than 12 convo me. They're .75 each, and I can do as many or as few as you need, it's only the postage that could vary.

Fondant is a sugar clay that dries hard, so they'll keep their shape if you want to stand them upright. I add a little tylose to the fondant to make it dry harder.

If you don't specify a color I'll make them in white, so please make sure to choose a color when you order them!

DUE TO CUSTOMS ISSUES THIS ITEM DOES NOT SHIP OUTSIDE THE U.S. ORDERS PLACED TO SHIP TO COUNTRIES OUTSIDE THE U.S. WILL BE REFUNDED. PLEASE CONTACT ME WITH QUESTIONS.
Please allow for a week for drying time before shipping so that they can be dry enough to send.