Gumpaste Pizza for cake decorating, groom's cakes, fake food pizza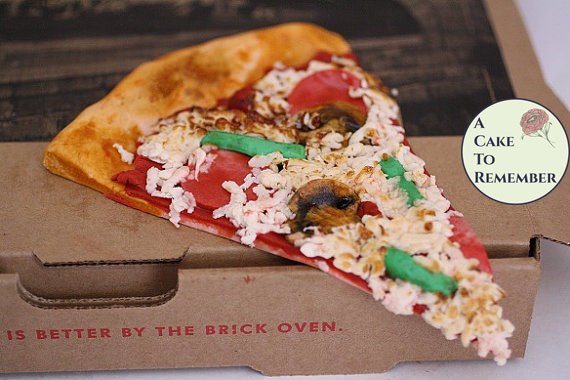 Gumpaste Pizza for cake decorating, groom's cakes, fake food pizza
This slice of pizza is completely made of fondant and gumpaste, and can be used on a groom's cake or a birthday cake to set off a pizza box cake, or to make a round cake special for a teenager! (Or for any guy.)
DUE TO CUSTOMS ISSUES THIS ITEM DOES NOT SHIP OUTSIDE THE U.S. ORDERS PLACED TO SHIP TO COUNTRIES OUTSIDE THE U.S. WILL BE REFUNDED. PLEASE CONTACT ME WITH QUESTIONS.
Each slice is about 6" long and looks about the size of a regular piece of pizza. I can put whatever "toppings" you want on it. Just add a message when you make your purchase to let me know what you want to be included.
Please allow at least a couple of weeks for this to arrive, since it will take some time to dry and be ready to ship!
To see my main shop page click here: http://www.acaketoremember.biz