Gumpaste snowflakes, lacy snowflakes for cake decorating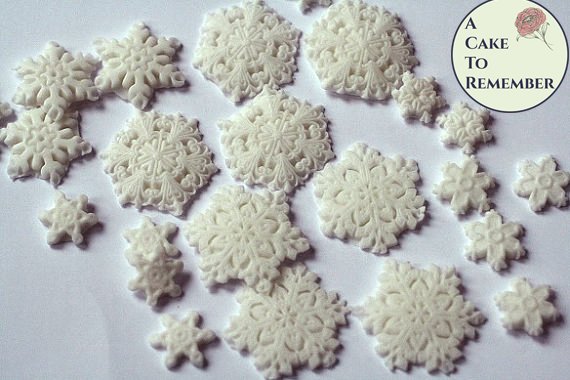 Gumpaste snowflakes, lacy snowflakes for cake decorating
24 lacy snowflakes for cake decorating. This includes 24 gumpaste snowflakes with 6 different patterns.
DUE TO CUSTOMS ISSUES THIS ITEM DOES NOT SHIP OUTSIDE THE U.S. ORDERS PLACED TO SHIP TO COUNTRIES OUTSIDE THE U.S. WILL BE REFUNDED. PLEASE CONTACT ME WITH QUESTIONS.
They range from 1/4" wide to about 1" wide. There are 12 of the smallest ones, four medium-sized (a little over 1/2" wide) and 8 of the 1" wide ones in two different patterns.
These are white and come in a matte finish. Please be aware that they're small, so if you're using them on a large cake you might need a lot of them depending on the effect you're looking for.
These are made from gumpaste and are hard, so they could be considered a choking hazard for small children.