Rectangular jewel brooch silicone mold M5052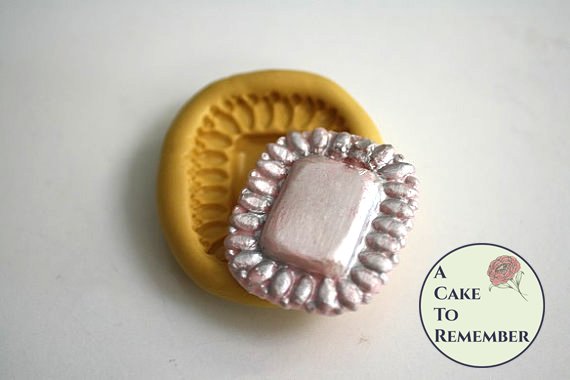 Rectangular jewel brooch silicone mold M5052
Rectangular jewel brooch silicone mold for cake decorating, cupcake decorating, chocolate, polymer clay, resin, made from food-safe silicone.
It's about 1 1/4" by 1 1/2".

This could be used for gumpaste, fondant, chocolate or poured sugar. Safe up to 350 degrees Fahrenheit. If you use it for polymer clay it shouldn't also be used for food items!

The piece in the photos is made from gumpaste and painted with metallic edible Rainbow Dust paints (available here: http://acaketoremember.biz/t/decorating-supplies-and-petal-dusts)

These molds work best with gumpaste or a stiff fondant. Soft fondant won't work in the molds because it will stretch when it's removed and lose the shape and details.