silicone golf mold for fondant and gumpaste. Golf bag mold for cake decorating or polymer clay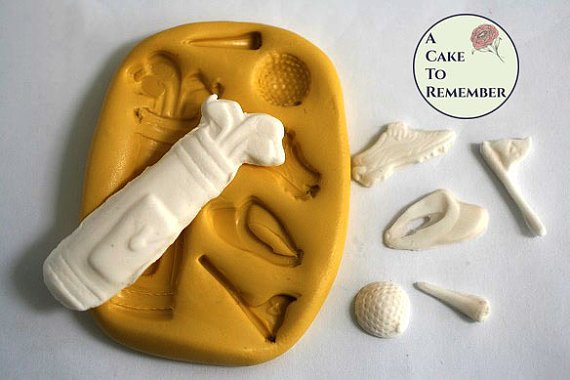 silicone golf mold for fondant and gumpaste. Golf bag mold for cake decorating or polymer clay
Silicone golf mold for fondant or gumpaste. Cake decorating mold for golf cakes.
This mold makes a selection of little golf accessories and a golf bag. Sized small for cake pops and cupcakes, sizes of the accessories range from 1/4" to 1". The golf bag itself is a little over 2" tall.
This golf mold will work best with stiffer materials that can be pressed into it. Pouring chocolate will be difficult to remove from the smaller detail areas without breaking. Resin works well, as well as candy clay and isomalt.
Click here for my homepage: http://acaketoremember.biz/
Sign up for the VIP Club to get a 20% off coupon code to use on your first order! http://acaketoremember.biz/p/vip-club-signup