Silicone scroll mold with three designs, for cake decorating, cupcake decorating, polymer clay, gumpaste mold, silicone mould M098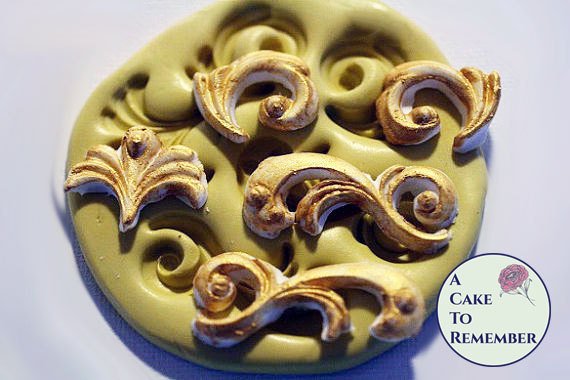 Silicone scroll mold with three designs, for cake decorating, cupcake decorating, polymer clay, gumpaste mold, silicone mould M098
Scroll mold with three different shapes for cake decorating or cupcake decorating.
The mold includes five cavities, with two mirror image shapes and one central piece.
I've included two photos that show a couple of the designs that you can make with different arrangements of the scrolls.
This could be used for gumpaste, fondant, chocolate or poured sugar. Safe up to 350 degrees Fahrenheit.
If you use it for polymer clay it shouldn't also be used for food items!
These molds work best with gumpaste or a stiff fondant. Soft fondant won't work in the molds because it will stretch when it's removed and lose the shape and details.
To see my main shop page click here: www.acaketoremember.biz