Snowflake mold for cake decorating, gumpaste snowflake mold, cake pops, cupcake decorating or polymer clay snowflakes. M017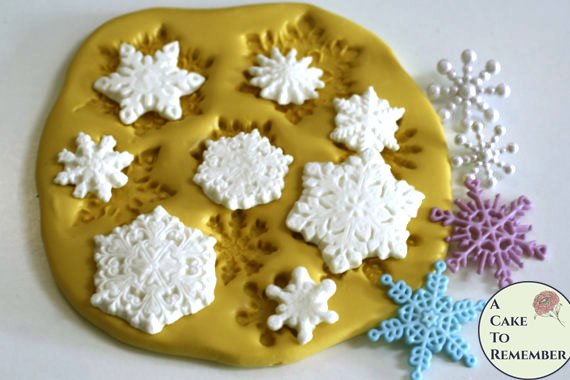 Snowflake mold for cake decorating, gumpaste snowflake mold, cake pops, cupcake decorating or polymer clay snowflakes. M017
Snowflake mold for cake decorating, cake pops, cupcake decorating, gumpaste, or polymer clay snowflakes.
This mold makes snowflakes that range from about 1/4" to 1" wide, and is made from snowflake buttons. The silicone is firm enough to make it pretty easy to fill the molds, unlike some types of silicone that are softer and difficult to work with.
The mold has cavities for 10 different snowflakes. It works best with a stiffer fondant or gumpaste, since softer materials can stretch when removing it from the mold and lose the details.