48 small teal, blue and purple edible butterflies for cake decorating and cupcake toppers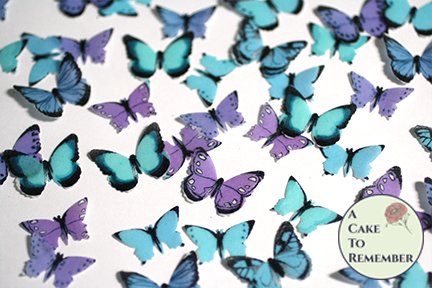 48 small teal, blue and purple edible butterflies for cake decorating and cupcake toppers
48 small teal, blue and purple edible butterflies to use for cake decorating, cookie decorating, or cupcake toppers.
These are 1/2" to 3/4" across. You'll get 24 of each size as pictured in the second photo above, two sizes that are small enough to use for cake pops, or to use on cupcakes using multiple butterflies.
Made from wafer paper, they're printed with food coloring and can be eaten with the cookies or cake. They're flavorless and won't affect the flavor of the cake.