12 Edible eyes made from isomalt, sugar eyeballs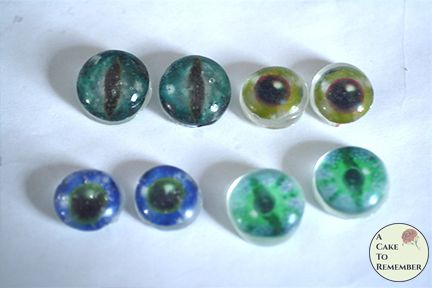 12 Edible eyes made from isomalt, sugar eyeballs
12 Edible eyes, 6 each of two sizes. One set will be about 3/4" across, and one will be a little under 1".
You'll get an assortment of eye styles and colors, and I'll match them so that you can pair them up if you'd like to.
For a kit to make your own eyes, click here
These are made from wafer paper and isomalt, and are a choking hazard for small children--Do not put on cupcakes or cookies that little kids will be eating!
Use these for 3D animal cakes or for a creepy touch to Halloween cakes or cupcakes. Isomalt shouldn't be eaten in large quantities, so don't eat them like candy!