12 Edible geodes for cake decorating and cupcake toppers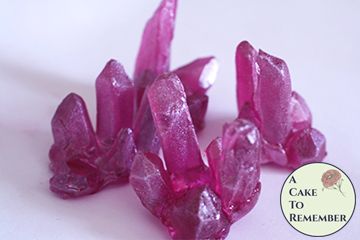 12 Edible geodes for cake decorating and cupcake toppers
12 edible geode crystals for cupcakes or cake toppers. These range in size and style, some are single crystals and some are a combination of multiple crystal points. You'll receive an assortment of shapes.
These could be used for cupcake toppers for a geology-themed party, or for someone who likes crystals and nature.
***Please note, these DO NOT ship internationally due to the possibility of sitting in customs and being ruined! I'll have to cancel and refund any orders that are placed to ship outside the US for that reason.***


The sizes are between 1" and about 1 1/2" tall. They're sized well for cupcake decorations, and you can choose your color at checkout.

These are made with isomalt and are edible, but shouldn't be eaten in large quantities.