25 gumpaste hydrangeas, sugar flowers for cake decorating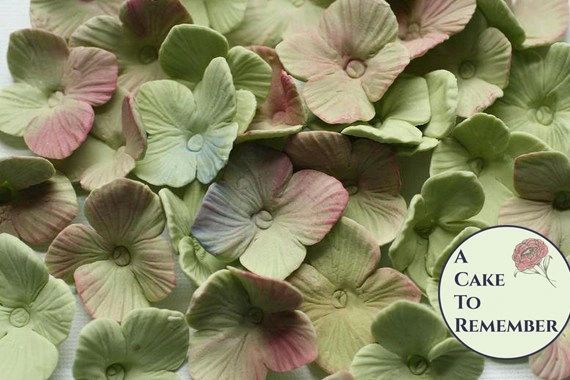 25 gumpaste hydrangeas, sugar flowers for cake decorating
25 gumpaste hydrangeas for cake decorating. These are unwired and can be placed on your cake or on cupcakes in clusters or individually.
They're about 1" across but each one is made individually, so variations will occur.
DUE TO CUSTOMS ISSUES THIS ITEM DOES NOT SHIP OUTSIDE THE U.S. ORDERS PLACED TO SHIP TO COUNTRIES OUTSIDE THE U.S. WILL BE REFUNDED. PLEASE CONTACT ME WITH QUESTIONS.
They're colored with food coloring and dusting powders, and they'll be a range of colors to make them look natural. For example, if you order blue, they'll be blue with touches of other colors like green or purple. If you have a specific color that you need let me know.
Please allow two weeks for processing time before shipping. It probably won't take that long but they need to be dry before shipping.