50 hexagon Sugar Jewels, Sugar Gems for cake decorating, hexagons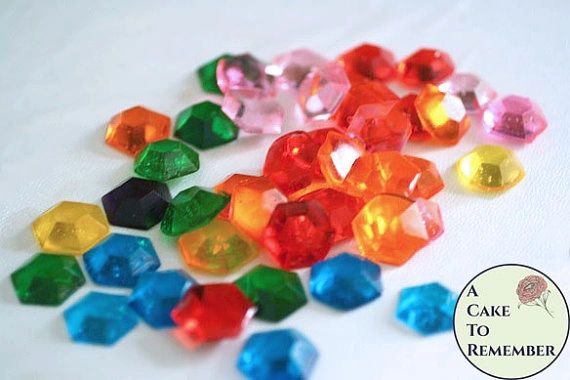 50 hexagon Sugar Jewels, Sugar Gems for cake decorating, hexagons
50 hexagonal Sugar Gems, sugar jewels for cake decorating. 50 jewels made from isomalt, which is a beet sugar.
These are hexagonal, about 1/2" across.
DUE TO CUSTOMS ISSUES THIS ITEM DOES NOT SHIP OUTSIDE THE U.S. ORDERS PLACED TO SHIP TO COUNTRIES OUTSIDE THE U.S. WILL BE REFUNDED. PLEASE CONTACT ME WITH QUESTIONS.
Isomalt shouldn't be eaten in large amounts or it can "upset your stomach." These are a hard texture like a lollipop, so don't give them to little kids since they can be a choking hazard!
They can be ordered in a single color or in an assortment, which I'll put together for you out of jewels that I have on hand. For cakes with a color theme make sure to select your color when checking out. For cakes that need a variety just order "assortment" when you choose the color. I'll make up a variety of different colors for you.
I can't match specific colors since the sugar can change color when being heated. I'll do my best if you have a specific color but I can't guarantee a perfect match! If you order one color it may include a variety of shades of that color. Send me a message with questions.
These are faceted on one side and flat on the other, and can be added to cakes using royal icing on fondant or buttercream on a buttercream cake. The reflection of light on them will vary based on how they're applied to the cakes.
They work best on a fondant cake becasue they absorb moisture, but they can be added to a buttercream cake as long as it's not too far before serving time. Attach them to your cakes as close to presentation time as possible to prevent them from melting! Sugar attracts water, so keep them in a sealed container until you need to use them. If you're not careful and let them start absorbing water they WILL soften and get cloudy! I'll ship them with silica gel packets to prevent this.
Sugar gems are fragile, so handle with care. If they stick together spray them with a little vegetable oil spray and rub them and they'll separate. You can do the same thing if they get cloudy and lose their shine. The oil will restore the shine to the sugar.