50 wafer paper flowers with printed details for cake decorating, wedding cake toppers, edible flowers, rice paper hydrangeas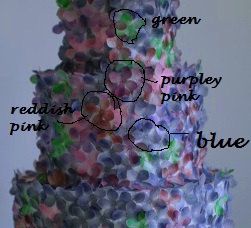 50 wafer paper flowers with printed details for cake decorating, wedding cake toppers, edible flowers, rice paper hydrangeas
These are pre-printed wafer paper flowers, about 1" across, for cake decorating or cupcake decorating. I print the flowers onto the wafer paper, then punch them out by hand so that each flower has photographic details on it. They're made from wafer paper, which is actually made from potato starch. It's totally edible and can be attached to cakes using corn syrup, piping gel or gum glue.
*****Colors can vary based on the printer and the computer monitor they're being viewed on. Please contact me with questions about color before ordering!!!******
Each order includes 50 flowers, which will cover about 5-6 square inches once they're shaped and applied to the cake, depending on how much you cup and overlap them. You can easily attach these to the side of a fondant cake by using piping gel or gum glue. To make a cupped shape, hold them in your hand and press gently with your finger in the center of the flower. The heat and oils in your fingers will help shape the flower.
If using them on icing they should be attached at the last minute because they'll absorb the oils from the icing and melt! Make sure to handle them with dry hands and keep them dry at all times or they'll soften and dissolve. These are colored by hand and the flowers will vary in color slightly as a result.
These work better on fondant than on buttercream because the oils from the icing will get absorbed into the wafer paper and will soften the flower. If they're placed on the cake right before serving, though, buttercream will be fine.
These will be shipped flat in a sealed ziploc bag. Store them in the bag until you need to use them. If they get wet they can stick together, so store them in a dry place. I do NOT accept returns on these because they're edible items and take a lot of handling. If you're not sure about whether you'll be able to use the wafer paper without having it melt, convo me and I can set up a custom listing for some practice pieces for you. To see my main shop page click here: http://www.etsy.com/shop/acaketoremember