Brooch set for 9 isomalt and wafer paper brooches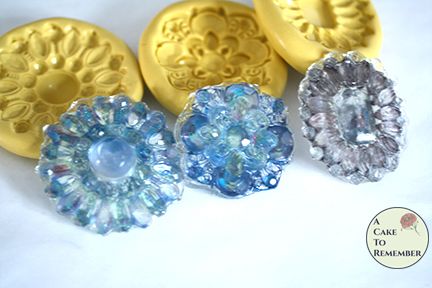 Brooch set for 9 isomalt and wafer paper brooches
This kit includes three brooch molds, 4 ounces of isomalt, and a sheet of 9 wafer paper brooch shapes to fit into them. 
Simple to make, just cut out the wafer paper brooches, fill the molds with melted isomalt, then apply the brooch to the back of the isomalt. Press to adhere using the flat back of a spatula, and let cool. When the isomalt cools, the image will show through and will make the brooch look like it's made from colored jewels.
The kit includes everything needed except the spatula and the container to melt the isomalt in. I recommend a silicone cupcake liner since they're easy to use and you can re-use the unused isomalt once it cools off.
You'll get three of each shape in shades of silver, pink, green and blue. 
Each brooch is about 2" wide but they vary slightly due to being different shapes.
Great for wedding cakes, treasure chest cakes, or jewelry box cakes. You can also lay them on top of cupcakes for an elegant topper.
Isomalt shouldn't be eaten in large quantities, so don't treat them like candy!