3 full sheets chevron printed wafer paper (choose one color) for cake decorating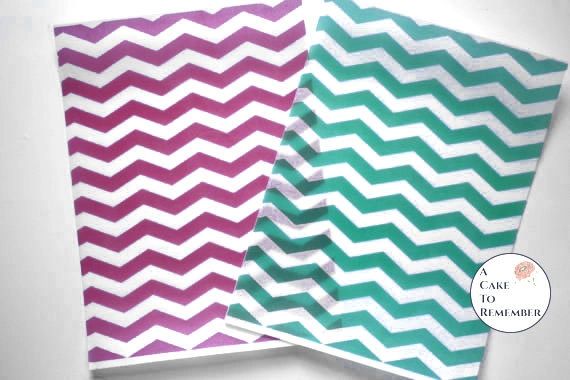 3 full sheets chevron printed wafer paper (choose one color) for cake decorating
3 sheets (choose one color at checkout) of chevron printed wafer paper for cake decorating, cupcake decorating, wafer paper flowers, or other cake decorations. Edible paper prints.
This product ships free to the US with first class shipping. Shipping fee will be refunded when the order is sent.

Each order includes three sheets of one color. Choose the color that you want at checkout. The second photo shows the colors. Colors on the sheets may vary due to computer monitors, but the range will be close to the color shown.

Available colors (shown in the second photo) are pink, red, green, purple, blue, and yellow
Each sheet is about 8"x10", and colored using food coloring.

Each order contains 3 sheets of wafer paper, which is made with potato starch and vegetable oil. The paper will dissolve if it gets wet, so make sure to handle it with dry hands.

The color will smear if you get it wet, so use caution and work with it in a dry area!

Click here for more information about wafer paper