Assorted shapes edible jewels for cake decorating, edible gems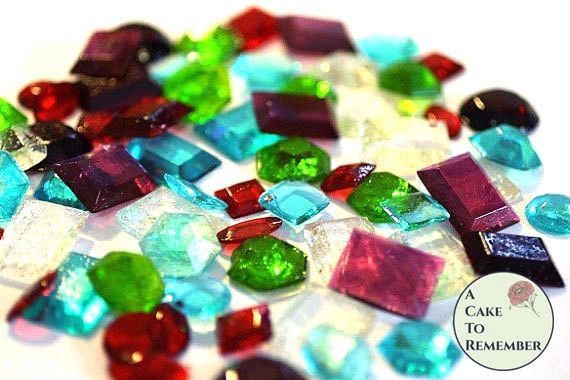 Assorted shapes edible jewels for cake decorating, edible gems
50 assorted sugar jewels with a variety of colors and shapes for decorating cakes and cupcakes.
These are made from isomalt. They don't have a flavoring in them, so they just taste like sugar.
Too much isomalt can cause "digestive upsets," so don't eat these like candy!
DUE TO CUSTOMS ISSUES THIS ITEM DOES NOT SHIP OUTSIDE THE U.S. ORDERS PLACED TO SHIP TO COUNTRIES OUTSIDE THE U.S. WILL BE REFUNDED. PLEASE CONTACT ME WITH QUESTIONS.
These should be considered to be a choking hazard because of their size, so don't give them to young children!
These can be ordered in a variety of colors, and I'll send an assortment of that color. I can't match color exactly but I can try to get close if you have a specific color in mind. If "assortment" is selected I'll send a variety of what I have on hand.
Store these at room temperature in a dry place, and don't refrigerate them since humidity will make them melt. If they're going to be sitting in a hot mailbox they can also melt, so please make sure to arrange for prompt pickup so that they won't get hot!