Extra-large 4 1/2" starfish Mold for cake decorating, chocolate mold, polymer clay mold, resin mold, soap, silicone mould, starfish mould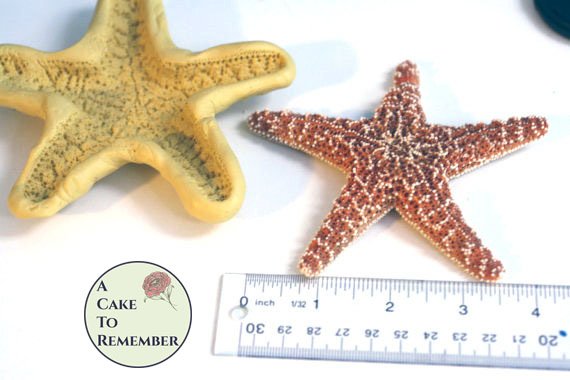 Extra-large 4 1/2" starfish Mold for cake decorating, chocolate mold, polymer clay mold, resin mold, soap, silicone mould, starfish mould
Extra large starfish mold, about 4 1/2" across tip to tip. Can be used to make cake toppers or as a single starfish on a beach-themed sheet cake.
This could be used for gumpaste, fondant, chocolate or poured sugar. Safe up to 350 degrees Fahrenheit.
If you use it for polymer clay it shouldn't also be used for food items!
I made this mold using real starfish from my collection. The detail on the starfish molds are really nice, and they can be colored to make a realistic starfish by using a darker color to mold the item, then brushing it with white food coloring or luster dust. Or mold it using white gumpaste then paint with food coloring and wipe the food coloring off of the starfish with a damp paper towel to expose the white underneath.
These molds work best with gumpaste or a stiff fondant. Soft fondant won't work in the molds because it will stretch when it's removed and lose the shape and details. The starfish in the photos is made from modeling chocolate and brushed with pearl luster dust to show the details. To see my main shop page click here: http://www.acaketoremember.biz