Three full sheets of printed wafer paper, vintage floral pattern, for cake and cookie decorating. 8" x 10.5" edible paper prints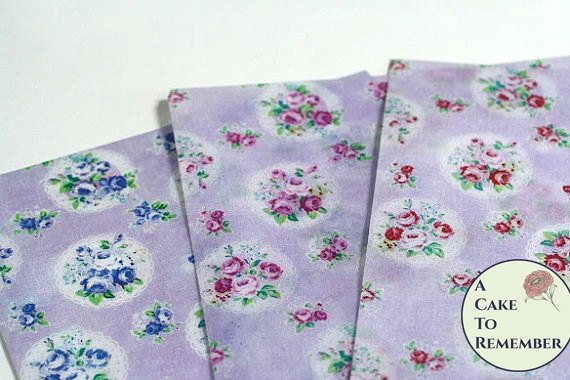 Three full sheets of printed wafer paper, vintage floral pattern, for cake and cookie decorating. 8" x 10.5" edible paper prints
Three sheets of printed wafer paper with a vintage floral pattern for cake decorating, cookie decorating, and cupcake decorating.

These have a vintage flower pattern with roses and leaves and a floral medallion repeated on the page. They flowers are on a background with a slightly rough texture to add to the vintage feel.

These are available in five color combinations, including lavender with red flowers, lavender with purple flowers, blue-ish lavender with blue flowers, sage green with red flowers, and pink with red flowers.

Each order includes three sheets of ONE color, choose the color at checkout, or send me a message for a custom assortment.

***** Colors will vary based on your computer monitor and the printer! It will be in the range of the photos shown but exact matches are not guaranteed.*******

DUE TO NATURAL VARIATIONS ON THE PAPER SURFACE, THE COLOR MIGHT BE LIGHTER AND DARKER IN SPOTS ON THE PAPER!!!

Each sheet is about 8"x10", and colored using food coloring. The color will vary but is going to be on the lighter side, since too much color can make the paper buckle and prevent it from lying flat.

Wafer paper is made with potato starch and vegetable oil. The paper will dissolve if it gets wet, so make sure to handle it with dry hands.

This wafer paper can be used with paper punches or paper scissors to cut out flowers or other shapes that can be used on cakes and cupcakes for cake decorating.

The wafer paper will be shipped in a food-safe storage bag and should be stored at room temperature in a non-humid area and away from sunlight to prevent fading. It can be kept for up to a year but it's better to use it within 6 months or so. If moisture gets into it, it can stick together, so proper storage is important!