12 Gumpaste raspberries or blackberries for cake decorating or cupcake decorating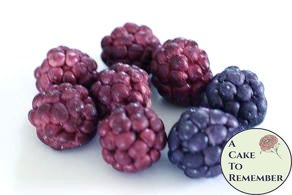 12 Gumpaste raspberries or blackberries for cake decorating or cupcake decorating
This is a group of 12 unwired berries made from gumpaste, which is an edible sugar clay. It dries to a hard finish, and is safe to use on food items as a decoration.
DUE TO CUSTOMS ISSUES THIS ITEM DOES NOT SHIP OUTSIDE THE U.S. ORDERS PLACED TO SHIP TO COUNTRIES OUTSIDE THE U.S. WILL BE REFUNDED. PLEASE CONTACT ME WITH QUESTIONS.
These little berries can be colored to look like blackberries or raspberries. Because they don't have wires you can attach them directly to the surface of the cake, put them on top of cupcakes, or just use them here and there on a cake. Use small gumpaste leaves with them to make a natural-looking grouping for a cute arrangement on a birthday or wedding cake.
Add gumpaste strawberries to this group to make a berry theme!