Gumpaste holly leaves and holly berries for cake decorating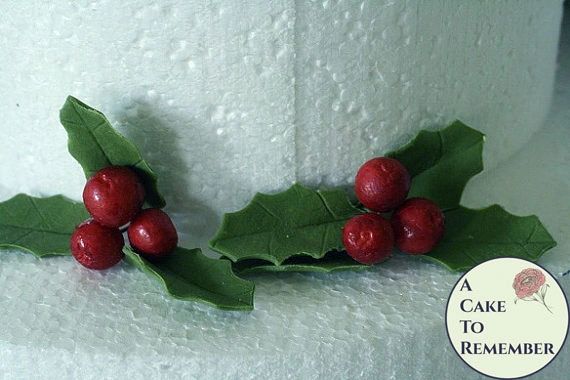 Gumpaste holly leaves and holly berries for cake decorating
These unwired holly leaves and berries can be used to create clusters of holly on a holiday themed cake. You can choose either a light or dark green at checkout. One listing is enough to make 6 sets of holly with 18 individual leaves and 18 individual berries total.
DUE TO CUSTOMS ISSUES THIS ITEM DOES NOT SHIP OUTSIDE THE U.S. ORDERS PLACED TO SHIP TO COUNTRIES OUTSIDE THE U.S. WILL BE REFUNDED. PLEASE CONTACT ME WITH QUESTIONS.
Gumpaste is an edible sugar dough that dries hard, so the leaves are rigid and keep their shape. I put each leaf through a leaf press to give them some realistic veining. If you need more than that please order more than one listing to make up what you need.
They're all unwired, so they can be assembled on the cake using icing or melted chocolate. Use them for filler for gumpaste flower arrangements on cakes, or to place with small flowers on top of a cookies or cupcakes.