Gumpaste Silver and Gold Leaves for cake decorating and DIY wedding cakes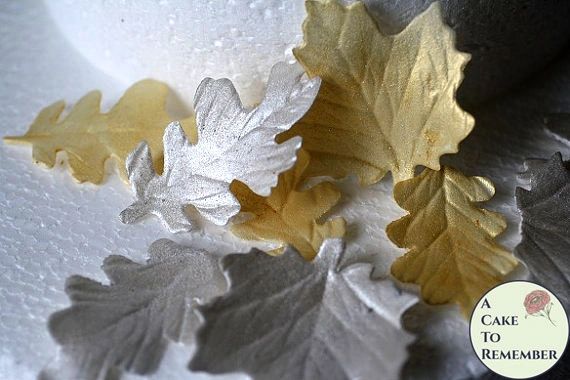 Gumpaste Silver and Gold Leaves for cake decorating and DIY wedding cakes
Gumpaste leaves in either silver or gold, or a combination of both.
Cost is $10 for a dozen including 4 of each shape, maple and two oak leaf styles. They're all about 2" long or wide.
These are white gumpaste that's been brushed with a dusting of metallic luster dust. They'll give your winter cakes a nice glimmery touch.
DUE TO CUSTOMS ISSUES THIS ITEM DOES NOT SHIP OUTSIDE THE U.S. ORDERS PLACED TO SHIP TO COUNTRIES OUTSIDE THE U.S. WILL BE REFUNDED. PLEASE CONTACT ME WITH QUESTIONS.
If you prefer one color or only one type of leaf, you can choose that in the checkout process. If you don't specify, I'll do a variety of shapes, and half gold, half silver.