6 Gumpaste strawberries for cake decorating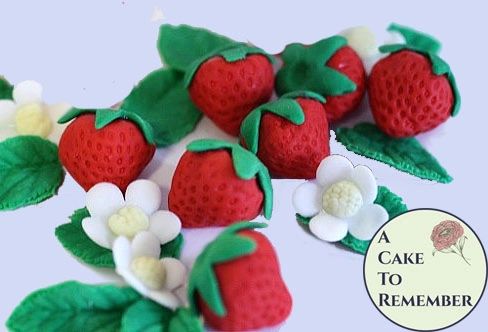 6 Gumpaste strawberries for cake decorating
Little strawberries, about 1/2"-3/4" long, made of gumpaste so they can be used on cakes and cupcakes. They come with little leaves and strawberry blossoms, and have no wire in them
One order of these comes with 6 strawberries and 6 blossoms plus 12 leaves. More than one order is pictured!!!
DUE TO CUSTOMS ISSUES THIS ITEM DOES NOT SHIP OUTSIDE THE U.S. ORDERS PLACED TO SHIP TO COUNTRIES OUTSIDE THE U.S. WILL BE REFUNDED. PLEASE CONTACT ME WITH QUESTIONS.
Please allow two weeks for these to be made, but I'll probably be able to get them to you sooner. I'll ship them as soon as they're ready to be mailed.
To see my main shop page click here: http://www.acaketoremember.biz