Hearts silicone mold for cake decorating, cupcake decorating, chocolate, polymer clay, resin, silicone mould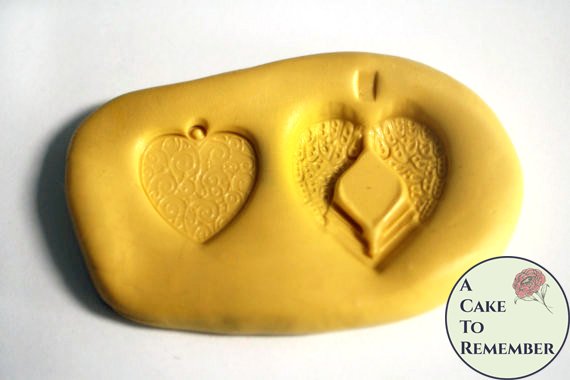 Hearts silicone mold for cake decorating, cupcake decorating, chocolate, polymer clay, resin, silicone mould
Hearts silicone mold for cake decorating, cupcake decorating, polymer clay, and chocolate. Two hearts with filigree detail and a space in the center of the larger one for a contrasting color or sugar jewel.
You can pour isomalt into the center or put a different color of gumpaste there for contrast.
The hearts are a little under 1" wide and a little over 1" wide. They both have a space on the mold for a clasp if you want to include that to make a necklace charm on a jewelry box cake.
This could be used for gumpaste, fondant, chocolate or poured sugar. Safe up to 350 degrees Fahrenheit.
If you use it for polymer clay it shouldn't also be used for food items! The yellow pieces in the photos are made from gumpaste.
These molds work best with gumpaste or a stiff fondant. Soft fondant won't work very well in the molds because it will stretch when it's removed and lose the shape.
To see my main shop page click here: http://www.acaketoremember.biz