Large Gumpaste Flower for Wedding Cakes, DIY wedding cake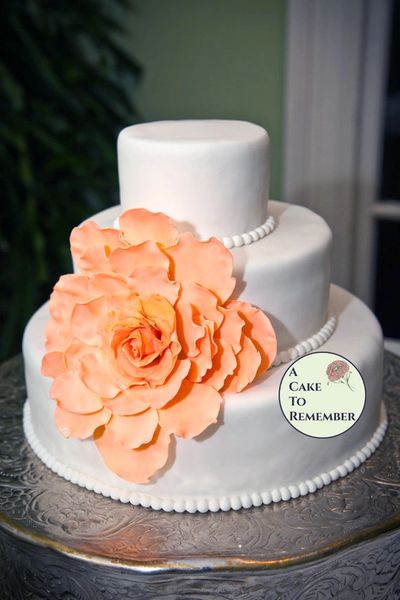 Large Gumpaste Flower for Wedding Cakes, DIY wedding cake
Large Exploded/expanded flower to put on the side of a wedding cake.
DUE TO CUSTOMS ISSUES THIS ITEM DOES NOT SHIP OUTSIDE THE U.S. ORDERS PLACED TO SHIP TO COUNTRIES OUTSIDE THE U.S. WILL BE REFUNDED. PLEASE CONTACT ME WITH QUESTIONS.
The center flower is made of gumpaste, which is an edible sugar dough that dries to a hard finish. The gumpaste petals surrounding it are applied to the cake individually to give the effect of one large bloom.
Anyone can do this, it isn't hard...Here's a video that I made to show how to assemble the flower once you get the petals: http://www.youtube.com/watch?v=sI3riDoTnJ0&list=UUDru9n0gVtJlapF93R1npSw&index=1&feature=plcp
I can do the flower in any color to match the theme of your wedding. IF YOU DON'T SPECIFY A COLOR I'LL SEND THE FLOWER IN WHITE!!!
This kit is enough for a flower that covers the center of a three-tiered cake as pictured in the photo with the orange flower. Extra petals would be $8 for each additional 10 petals and can be ordered using this link: http://59334c32-2a7f-11e5-934d-14feb5d39f58.onlinestore.godaddy.com/products/extra-petals-for-the-large-gumpaste-flower-for-wedding-cakes-diy-wedding-cake-kit-gumpaste-rose-petals
If you need more of the petals message me to determine exactly what you need for the size cake that you're going to be having.
The picture of the white cake is an example of extra petals used to cover the entire three tiers. The orange flower uses about 40 petals, and the white flower used about 60. It will also depend on what size and height the tiers of your cake are, so please feel free to email me to ask!
Please give me at least three weeks to make the flower and ship it safely to you! I might have some in stock but if you want a color other than white I may have to make it custom and that takes longer.
Check out my information about shipping for more on shipping gumpaste items.
To see my main shop page click here: http://www.acaketoremember.biz