Lock plate mold for cake decorating, chocolate, hard candy, polymer clay, or resin. M099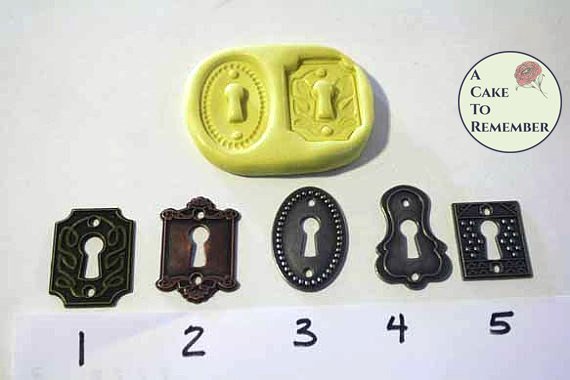 Lock plate mold for cake decorating, chocolate, hard candy, polymer clay, or resin. M099
This is a silicone mold made from YOUR CHOICE of two of the five lock plates shown. Choose which two designs that you want at checkout, and I'll make a custom mold with those two locks. each lock plate is about 1" wide.

Choose the plates using the numbers shown in the photos above. When checking out you'll be given a chance to choose which designs. If you can't choose for some reason send me a note with the order telling me which two designs you'd like.

The mold is make from a food-grade silicone, and you can use it for gumpaste, fondant, modelling clay, chocolate, and isomalt. It's safe up to 325 degrees Fahrenheit, and I've used hot isomalt in them with a good result. You can also use them for polymer clay and other clay media, but if you use them for non-food purposes don't use them for food items after that!

The molds are made to order, so I can't accept returns on them. I do test them all before I send them to make sure they make an item that looks right! I try to ship them the same day or the day after I receive the order.

These molds work best with gumpaste or a stiff fondant. Soft fondant won't work in the molds because it will stretch when it's removed and lose the shape and details.