Silicone button mold for fondant, 5/8" across, food-safe for cake decorating, chocolate, hard candy, polymer clay, resin. M24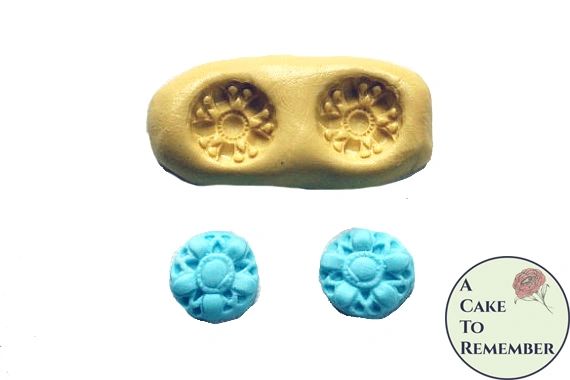 Silicone button mold for fondant, 5/8" across, food-safe for cake decorating, chocolate, hard candy, polymer clay, resin. M24
This is a handmade flexible silicone mold to make two buttons to use on cakes or cupcakes. The silicone is food-grade, but if you're using it for food don't use it for other purposes as well. This could be used for gumpaste, fondant, chocolate or poured sugar. Safe up to 350 degrees Fahrenheit.

If you use it for polymer clay it shouldn't also be used for food items!

I made this mold using vintage buttons from my collection. I test each one to make sure the impression works, and you can paint them any color that you want using luster dusts or food coloring. Since these are made to order, I can't accept returns on them. If you want to order multiples but you're not sure about the impression it will make, order one first to test it out.

This mold makes two buttons that are about 5/8" wide.

These molds work best with gumpaste or a stiff fondant. Soft fondant won't work in the molds because it will stretch when it's removed and lose the shape and details.