Silicone pansy flower mold for cake decorating, cupcake decorating, chocolate, polymer clay, paper clay, gumpaste, resin. M046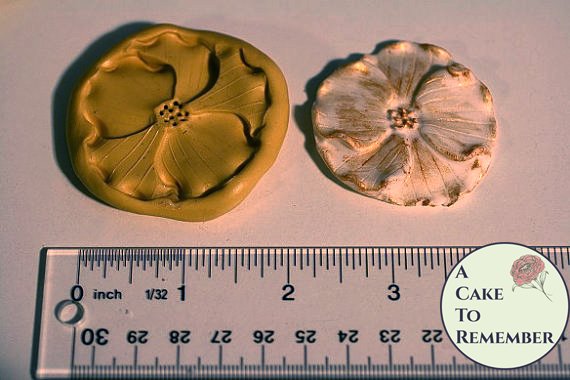 Silicone pansy flower mold for cake decorating, cupcake decorating, chocolate, polymer clay, paper clay, gumpaste, resin. M046
SIlicone flower mold for cake decorating or cupcake decorating. This is sized right to place flat on top of a cupcake, about 2" across. It looks like a pansy shape with the five petals, and has ruffly edges on the petal sections.

This flower is made from a vintage earring from my collection. The flower petals themselves are fairly thick, and you could cut through the eges of the petals with an exacto to move them around to vary the shape.

This could be used for gumpaste, fondant, chocolate or poured sugar. Safe up to 350 degrees Fahrenheit.
If you use it for polymer clay it shouldn't also be used for food items!
The individual flowers in the photos are made from gumpaste and show the detail on the molded item.

These molds work best with gumpaste or a stiff fondant. Soft fondant won't work well in the molds because it will stretch when it's removed and lose the shape and details.

To see my main shop page click here: www.acaketoremember.biz