Sugar bows for gift box cakes and Christmas cakes, cake decorating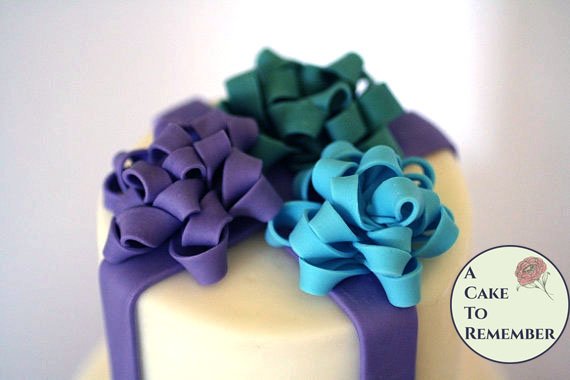 Sugar bows for gift box cakes and Christmas cakes, cake decorating
This is a group of 3 gumpaste gift bows for cake decorating or cupcake decorating.
DUE TO CUSTOMS ISSUES THIS ITEM DOES NOT SHIP OUTSIDE THE U.S. ORDERS PLACED TO SHIP TO COUNTRIES OUTSIDE THE U.S. WILL BE REFUNDED. PLEASE CONTACT ME WITH QUESTIONS.
The bows are about 2- 2 1/2" wide, and can be used on a gift box cake, or on the top of cupcakes to dress them up.
Each group of three bows needs to be the same color, so if you want more than one color you'll need to order more than one group.
Gumpaste is a sugar dough that dries hard...It's similar to the stuff that Necco wafers are made from, but it doesn't have a flavoring in it. If someone eats it it won't hurt them, but it's probably not something that they'll want to make a snack out of!
These need to be made up as they're ordered and dried, so please allow enough time when ordering. I need at least a couple of weeks at most times of the year to make sure the post office has enough time to get them to you once they're ready to ship.
To see my main shop page click here: http://www.acaketoremember.biz