Sugar Sea Glass for cake decorating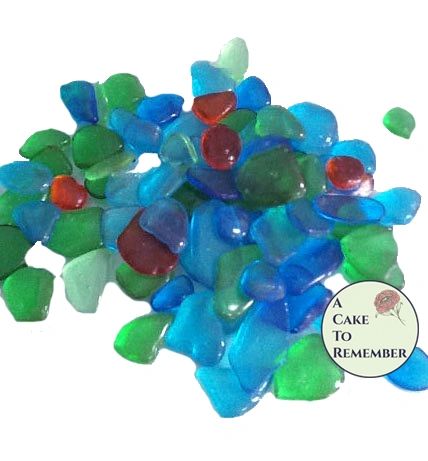 Sugar Sea Glass for cake decorating
Sea glass made with isomalt. This is hand poured to be shaped like rounded sea glass, not broken pieces of sugar, and can be made in shades of blue, green, orange and purple.
DUE TO CUSTOMS ISSUES THIS ITEM DOES NOT SHIP OUTSIDE THE U.S. ORDERS PLACED TO SHIP TO COUNTRIES OUTSIDE THE U.S. WILL BE REFUNDED. PLEASE CONTACT ME WITH QUESTIONS.
Each order includes 3 ounces of sugar glass, which is enough to cover approximately a 5 square inch area. This isomalt sea glass is like hard candy, but doesn't have flavoring, so it just tastes like sugar. It should be considered to be a choking hazard due to the size of the pieces, so don't give it to young children!
It should be stored at room temperature in a dry place to prevent it from sticking to itself. Do not refrigerate if possible because the humidity from the fridge will melt it. If the package will be sitting in a hot area for any length of time after delivery, it's possible that it will melt. Please arrange for prompt pickup so that it won't be ruined by heat while sitting in a mailbox!