Silicone mold for sugar jewels in settings, teardrop jewels mold, 4 sizes. Cake pops cake bling mold, resin mold, polymer clay mold M5140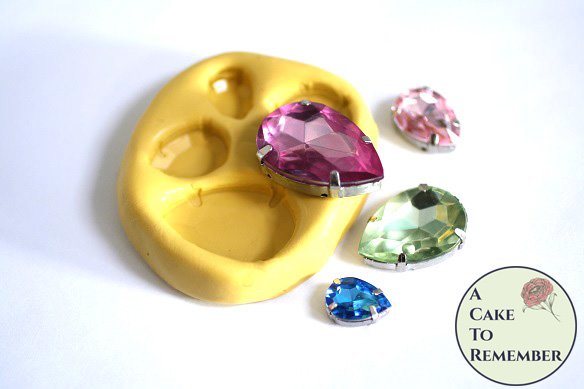 Silicone mold for sugar jewels in settings, teardrop jewels mold, 4 sizes. Cake pops cake bling mold, resin mold, polymer clay mold M5140
4 sizes teardrop silicone jewel mold with settings on the stones. Sizes range from about 1/2" to about 1 1/8" pear shaped jewels.

Great for cake decorating, cupcake toppers, cake bling for princess parties or treasure chest cakes. Sized fine for cake pops, too.

Use this mold with fondant, gumpaste, isomalt or chocolate. Use a stiffer material for best results since softer fondants can stretch and not hold the detail as well.

Can also be used for polymer clay, resin, UTEE and paper clay.

Avoid using molds for both edible and non-edible materials.