Three 3" wired gumpaste succulents with rounded tips for cake decorating, wedding cake toppers, or DIY wedding cakes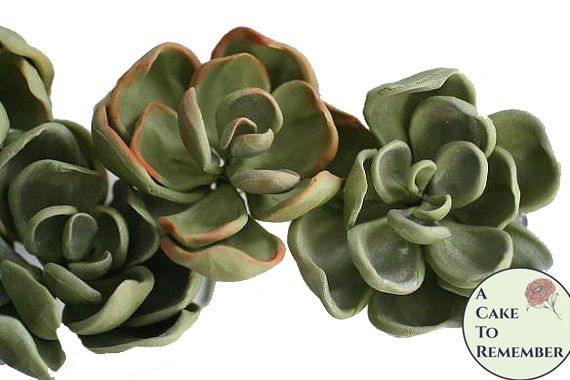 Three 3" wired gumpaste succulents with rounded tips for cake decorating, wedding cake toppers, or DIY wedding cakes
3 Wired gumpaste succulent plants for cake decorating, wedding cake toppers or DIY weddings.
These have rounded edges and are made with wires so that the petals can be repositioned. The width is about 3" but will vary depending on how you arrange the petals.
DUE TO CUSTOMS ISSUES THIS ITEM DOES NOT SHIP OUTSIDE THE U.S. ORDERS PLACED TO SHIP TO COUNTRIES OUTSIDE THE U.S. WILL BE REFUNDED. PLEASE CONTACT ME WITH QUESTIONS.
Edible succulents are a really cute addition to wedding cakes, and are great for DIY weddings since they're easy to arrange on cakes in small groupings. These are large enough to use in a group for a wedding cake topper.
These are made from gumpaste, which is an edible sugar clay that dries to a hard finish.
Each order is for THREE succulents. These are wired and can be inserted into the cake using drinking straws or flowers picks to cover the wires. DO NOT insert the wires directly into the cake!
You can get them in solid green, or with dusted tips in reddish-orange, yellow or purple. If you don't specify a color at checkout I will send solid green ones with no colored tips.
Please read my shipping policies about gumpaste.
To see my main shop page click here: http://www.acaketoremember.biz