Wired gumpaste sugar flower hydrangeas-- 6 for cake decorating- Sugar flowers for wedding cakes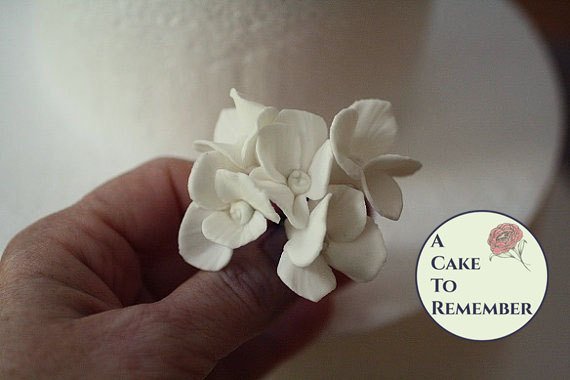 Wired gumpaste sugar flower hydrangeas-- 6 for cake decorating- Sugar flowers for wedding cakes
These gumpaste sugar flower hydrangeas for wedding cakes or special occasion cakes are made by hand by me and dusted with a variety of colors of your choice to give them a realistic appearance.
DUE TO CUSTOMS ISSUES THIS ITEM DOES NOT SHIP OUTSIDE THE U.S. ORDERS PLACED TO SHIP TO COUNTRIES OUTSIDE THE U.S. WILL BE REFUNDED. PLEASE CONTACT ME WITH QUESTIONS.
This listing is for 6 individual hydrangeas, enough to make ONE bunch the size of the ones being held in my hand in the first photo above. The other photos show multiple bunches combined to make a bigger bunch.
These flowers vary in size because the petals dry in different positions. One bunch of 6 (one order) will make a clump about 2 1/2" round. For a 5" or 6" cake topper, you'd need about 5 or 6 clumps to make a good-sized mound of flowers. They look beautiful on cakes in clusters, or scattered as individual blossoms. Each flower is slightly different so that they look natural and realistic.
Real hydrangeas are toxic and also wilt quickly, so gumpaste is the better option to use on cakes.
Gumpaste is an edible sugar dough that can be molded into shapes, then dries hard. Flowers made with gumpaste are technically edible but don't taste like much...They're food safe, so you can use them knowing that they won't be a hazard on your cakes if someone does eat one.
I make these using either a colored gumpaste or in white, then I enhance the colors and add different tones to them by brushing them with an edible food coloring or by airbrushing them with food coloring. Real hydrangeas aren't all one color, so by adding the extra tones I give them a depth that flowers made with just one color don't have. The flowers can be made in any color that you need. Choose your color at checkout to let me know what color you'd like, or send me a question if you have specific requests. You can also leave a note at checkout to specify what color combination you want, or send me a link to a photo of flowers with the color you want.
Since gumpaste is fragile, some breakage can occur in transit. Please see my policy page to read about this. I ship these individually in padding to minimize breakage, and you can put the wires together however you wish when you receive them.
***Flowers are made to order if I don't have them in stock, so allow at least two to three weeks for ordering. If I need to make them they'll have to have time to dry before they're safe to ship them to you.***
If you order a large number of them and the shipping is way more than the actual cost, I will reimburse you for the overage. To see my main shop page click here: http://www.acaketoremember.biz