Digital download--Printable yellow diamonds wafer paper file for cake decorating or cupcake decorating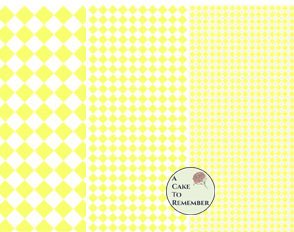 Digital download--Printable yellow diamonds wafer paper file for cake decorating or cupcake decorating
Digital download--Three sizes of yellow diamond patterns for wafer paper printing. Printable wafer paper file to use for cake decorating or cupcake decorating projects. These files come with a limited commercial license, please read below for details.

This is a downloadable file, no physical wafer paper will be sent to you! When you purchase the listing the file will be emailed to you within 24 hours of your purchase and you'll need to download all three files. To purchase a version that you can download immediately after purchasing, use the listing in my Etsy shop here: https://www.etsy.com/listing/242444968/digital-download-printable-yellow?ref=shop_home_active_1

To order printed sheets of this pattern, click here: https://www.etsy.com/listing/226468972/3-sheets-diamonds-wafer-paper-choose-one?ref=shop_home_active_6

These are in .jpg format and are sized to be printed on wafer paper, which is international A4 paper sized, about 8" x11".

This group includes yellow large, medium and small diamonds. The colors may vary based on your printer and the settings that you have it on, but the colors are all on the lighter side. They'd be good for baby shower colors.

These files are non-returnable and non-refundable after the link to download is sent. If you have problems with them please contact me and I'll help as much as I can.

Personal Use License:

You can use these files for unlimited personal use for craft projects that you do not sell. This does not include sharing the file digitally in any form. If someone is interested in the file please send them to my shop, I'd appreciate it!

Limited Commercial License:

You can use these files to make physical products for sale, except for printing the file on a full sheet of wafer paper or other edible medium and selling that page with the pattern in full. You may not sell the digital file, or send the digital file to a customer. You may not sell the full page pattern on its own in any form whether altered or not (i.e. changing the color). If you have questions about this please contact me.